Hard, Embrach – Sunday 26th September 2021
The Swiss Mr Pickwick Twenty20 competition draws to an exciting conclusion at the Finals Day at Embrach on Sunday 26th September 2021.
Match schedule
The first semi-final between Nomads & Power is scheduled to begin at 9.30am, to be followed immediately by the second between Cossonay & Olten at 12.30pm, after which there will be a short break before the final starts at 3.30pm.
Mr Pickwick Twenty20 League Finals Day Match Programme
Time
Activity

8.00 am
Grounds open for supporters
8.40 am
Toss for first semi-final
9.00 am
Semi-final 1: Nomads v Power

11.00 am
Lunch tent opens
11.40 pm
Toss for 2nd semi-final
12.00 pm
Semi-final 2: Cossonay v Olten

1.00 pm
*Lunch tent closes
3.00 pm
"Try cricket" for spectators & guests
3.10 pm
Toss for final
3.30 pm
Final starts
6.30 pm
Cessation of play
6.35 pm
Presentations
7.00 pm
Ground closes
Note: All times are approximate
* Lunches for players, officials & VIP guests are provided free of charge in biodegradable packaging.
Venue
This year's Swiss Mr Pickwick Twenty20 Finals Day will be hosted by Zurich Nomads at the newly installed artificial pitch at Areal Hard, Embrach.
There are ample car parking facilities, but spectators are encouraged to travel by public transport in order to minimise the event's carbon footprint.
The teams
The teams that have qualified for the 2021 Swiss Mr Pickwick Twenty20 Finals Day are as follows:
Nomads CC


Nomads CC
Faheem Nazir
Hassan Ahmad
Azeem Nazir
Waqas Khawaja
Farid Din
Khawer Memon
Idrees Muhammed
Noman Khan
Anoop Gangadharan
Miskeen Ali Jatoi
Shijo Joseph
Satbir Singh
Prasad Shikhare
Abid Mohammed
Asvin Lakkaraju
Power CC


Power CC
Asad Mahmood
Osama Mahmood
Sajid Safiatullah
Shahnawaz Hussain
Abdullah Rana
Aamir Butt
Afzaal Sikendar
Moaz Butt
Arshad Butt
Faraz Ahmed
Moeid Butt
Idris Ayubi
Aman Sing
Mubarak Rana
Olten CC


Olten CC
Nayyer Ali *
A.W.M. Shahid †
Thirunakrasa Jasotharan
Thanasegaram Shathees
Navaretnarasa Gowreesan
Malyar Tanikzai
John B.R. Freemas
Charles Shane
Varothayan Pratheepraj
Jacob Raja
Perumal Jeyakanthan
Karunamoorthy Roshanth
Sufiyan Sheeraz
Kandasamy Moorthy
Alestin Johnmary
Usman Ali
Logesh Augustine
Cossonay CC


Cossonay CC
Aidan Andrews
Jai Sinh
Arjun Vinod
Sathya Narayanan†
Ashwin Vinod
Mumtaz Ahmadzai
Thileepan Rasalingam
Waseem Javaid
Ismail Zaidi
Andrew Ryan*
Vikas Bhat
Bharath Narayanan
Floris Winckel
Rhett Andrews
Andy Lovell
Yeti Sinh
James Whittingham
Preview semi final 1
Zurich Nomads CC v Power Winterthur CC

The business end of the season is here, and it begins with the traditional rivals Nomads and Power CC locking horns in the first of the semi-finals to be played on Pickwick Cup T20 finals day.

Power CC qualified to the knockout phases by virtue of coming second in the eastern division and were separated by eventual group winners Nomads CC marginally by net run rate. They had a strong campaign in the T20 format and remained unbeaten and if not for weather playing a spoil sport, they would have probably been the group winners. They already had a high scoring game with Nomads CC in the group phase which they won on average run rate because of rain. Traditionally known for their power hitting batsmen, Power CC will be looking forward to bringing their exciting best to forefront in this important game even though it is highly unlikely that their most influential player and skipper Asad Mahmood will be able to take part in this game because of a leg injury. They will be once again looking forward to Osama Mahmood who scored a scintillating hundred in the quarterfinals against last year finalists, Geneva CC and single handedly won the game for Power CC.

Nomads CC themselves had a strong PT20 campaign in 2021 losing only to Power CC in a rain affected match and winning comfortably in the quarter-finals. Their strength has been their batting which has scored more than 200 in most of the games played. With the home ground advantage, they will be looking to put their right foot forward and qualify for the final. They will be looking to their skipper Faheem Nazir, who has been in scintillating form this year, to drive them from the front.

Match Timings: 9 am
Preview semi final 2
Olten CC v Cossonay CC

The second semi-final of 2021 edition will see a repeat of the line-up from 2020 semi finals, with the power hitting Olten CC taking on the golden generation of Cossonay CC, who are crowned as the champions of Switzerland after winning the Premier League competition. With that out of the way, Cossonay CC will set its sight firmly on the next big prize in the Swiss Cricket.
They will come prepared to do one up against Olten CC who are the reining PT20 Champions. With lot of young and dynamic players in their armoury and well led by experienced skipper Andrew Ryan Cossonay CC is one of the teams to look out for in this competition.
Cossonay CC qualified to the knockout phases by virtue of remaining unbeaten in the entire league phase and registered a huge victory in the quarter-finals against talented Swiss Afghan CC. Overall an exciting team with exciting players who will all be ready for the big day.

Olten CC on the other hand have been traditional powerhouses of Swiss Cricket and are the current reigning champions. A well-oiled machine that has individual players who have performed under pressure in many a finals is their biggest asset.
Olten CC breezed through the qualifying phases without losing a single game and registered a victory by massive margin in the quarter-finals. Their first big test will be against Cossonay CC, and they will be hoping for a repeat of 2020.

With two strong teams going head on, a great entertainment with high quality cricket is expected from both teams in this contest and the team that keeps the nerves is going to qualify for the finals.


Match Timings: 12pm
With four confident teams taking the centre-stage one can expect two close games and the teams which do the basics right on the day will qualify for the big finals later in the same day.
Live Telecast: Both games will be streamed live on Cricket Switzerland social media and Youtube channels.
PT20 statistics
Following is a summary of the 2021 Swiss Mr Pickwick Twenty20 League statistics up to and including the quarter final stages.
Presentations
The Swiss Mr Pickwick Twenty20 League awards will take place after the final: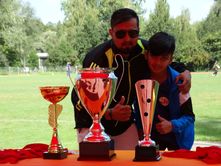 Most Valuable Player (MVP) of 2021 season in the PT20 competition: sponsored by CRICKETER PRO & SG
Man Of The Match (to be decided by the officials)
Runners-Up Medals
Winners Medals
Swiss Mr Pickwick T20 trophy and the replica trophy
More information

Further information regarding the Swiss Mr Pickwick Twenty20 Final is available from Cricket Switzerland's Asvin Lakkaraju.